As much as I love summer and feel extremely grateful to have been able to spend a great deal of time cottaging in Muskoka.  I have to admit, I really look forward to the fresh cool mornings that Fall brings here in Southern Ontario.  The smell of the air is incredible!!  It really adds energy to my morning "Hiit" workouts which I do outside whenever possible.
Saying that, my favourite thing about Fall (this will come as no surprise to those of you that know me) is the FOOD!  I love root vegetables especially sweet potatoes and all things warm and spicy!!  I know I'm not alone in this love because its this time of year that Starbucks introduces one of their most popular beverages, the "Pumpkin Spice" Latte.  This year, instead of indulging in the Starbucks version full of GMO's and a BOAT LOAD of sugar that I guarantee will cause cravings to spiral out of control.   Get your yummy pumpkin spice fix here, complete with real pumpkin!  It is super important to indulge in healthier versions of the things you love and I delight in making healthy creations to satisfy my clients' cravings!!
So it is my pleasure to introduce a new superfood smoothie to your morning line-up!

Creamy Pumpkin Spice Superfood Smoothie!!
This smoothie is nutrient dense, hormone balancing and contains no added sugars!  It is also delightfully creamy and satisfying thanks to the coconut milk!  Packed with fibre and the immune boosting superfood bee pollen, it will help protect you from the upcoming cold and flu season and bust sugar cravings!
Ingredients
1 tablespoon of coconut butter
3/4 cup of  my homemade almond milk (recipe here: Fast and Easy Almond Milk) *can also use water
1/2 can of organic unsweetened pumpkin
1 small banana or (2 pitted Medjool dates)
1.5 scoops of SunWarrior Vanilla Raw Protein Powder
1 tsp of  Simply Organic "Pumpkin Spice" (or less to taste)
1 tsp of bee pollen
3-4 Ice cubes
Instructions
Combine in your favourite blender until smooth and creamy
*Vegan-Gluten and Dairy Free*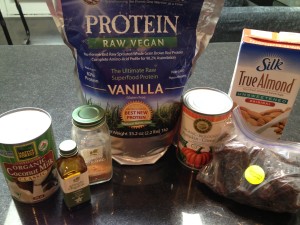 Have questions, post a comment and please let me know how you like it!!