Last night was "Date Night"!  It was already 6 pm and the kids were starting to get a little "wonky", it was indeed witching hour!  So how does a nutritionist throw together dinner and get showered and ready for a date in an hour???  Kraft dinner, right??  All kids love pasta!  Those of you that know me are thinking "whatever" that is so "not happening" and you're right!  There are in fact ZERO Kraft products in my house.  The last thing I would give my kids is anything with artificial colours and preservatives! But that doesn't mean I can't throw together a delicious healthy pasta dinner for the kids in the same amount of time it would take to feed them a box of KD.
The first step was figuring out what I had to throw together!  My Dad had recently dropped off pounds of organic field tomatoes, so the dish definitely had to revolve around that!  There is nothing better than Ontario grown fresh tomatoes!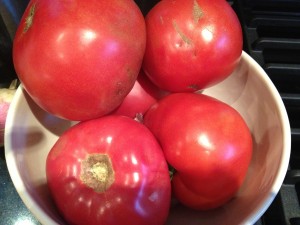 The second step was to figure out what protein I had available.  As is often the case, there was a 1/2 a chicken breast of grilled chicken from the night before.  We always try to make a little extra chicken for lunches or quick snacks.  I know what you're thinking and I'm not a huge fan of cold leftover chicken either!  But adding it to pasta, soups or making fajitas with it changed my mind completely!
So now we had chicken and tomatoes.  We haven't really been eating much pasta lately, but I was lucky to have some Organic Spelt (low gluten) Udon noodles in my pantry!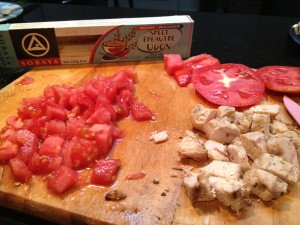 At this point, I still wasn't sure what I was going to make that would be tasty enough for the kids to eat.  Then it hit me!  My kids love "Caprese" salad!  Perfect!!  This would be "fresh" pasta.  The only thing I was going to cook was the pasta itself!!  It doesn't get any easier than that!  The final ingredients would be fresh grated Parmesan cheese and basil!  I always have fresh basil on hand as I have a little plant that sits on my kitchen counter!  As you've come to learn, I do have my own little "sus chef" at home.  Here she is grating the cheese!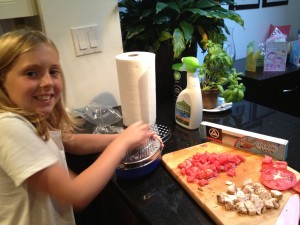 At this point, all we needed was to chop some of that yummy basil and add it to the fresh tomatoes.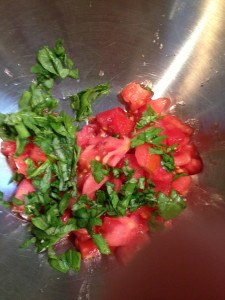 Next came the hot pasta that the chicken was sitting in just to warm it up a little.  Those ingredients were then added to the bowl, we drizzled a few tablespoons of organic olive oil on top, threw in the fresh grated parmesan, a little Himalayan sea salt and fresh ground pepper and tossed it together!  VOLIA!  My girls gobbled this up!  When you have lots of fresh whole foods in the house it can be easy to throw a fresh, healthy, well balanced, nutrient dense dinner together in minutes!!  And that my friends is what a nutritionist throws together on a "Kraft Dinner" kind of night!!
What is your favourite quick and easy dinner??