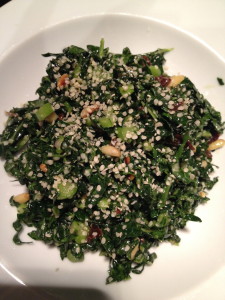 Getting enough greens in your diet is so crucial to your health and can certainly aid in weight loss!   Kale is a fantastic place to start!  The sheer amount of nutrients and phytochemicals alone in this green leafy vegetable is a little "crazy" in a totally AMAZING way!
One of these phytochemicals -glucosinolates, has cancer fighting properties.   A few others such as the carotenoids and flavonoids contain beta-carotene and lutein.  Both have anti-inflammatory properties and a massive amount of antioxidants that protect our cells from free radical damage (think aging)!  Plus lutein helps protect us from UV light and may even protect against cataracts.
All that good stuff aside, kale can also help you put an end to more than a few common complaints!
"I'm too tired to work out" -The vitamins from kale can help with your energy levels because it can improve muscle function due to its high magnesium content!
"I have a cold AGAIN"-Your body will benefit from an abundance of minerals from kale which will help to recover fast from your workouts as well as reduce your risk of getting sick.  Having enough minerals in your body helps to create an alkaline environment which is essential to good health.
"Cravings are the death of me"–In addition to the amazing micronutrients kale contains, it also packs a great deal of fiber!  Having enough fiber in your diet can help balance your blood sugar which will prevent you from having that low blood sugar "crash" where all cravings begin!
"I can't do this"-Whatever it is you think you can or can't do-you're right!  Kale can even help change your mindset!  The high folate content of kale can help increase your production of serotonin which can elevate your mood and help you concur any negative thoughts!
Ok, so I *may* have convinced you that kale is indeed good for you.  BUT- you still can't stomach it??  This is your lucky day!  Originally inspired by a recipe I found on Food Babe.  I increased the "superfood" content by using hemp hearts and goji berries and switched out the fresh lemon for apple cider vinegar because it is better at controlling appetite!
The Kale Salad that Converts!
Ingredients
1 bunch organic dinosaur kale, rinsed  (I don't remove stems-but you can)
⅓ cup goji berries or organic raisins
2 tbsp of apple cider vinegar with the "mother"
1 tbsp of organic olive oil
1 tsp maple syrup
½ cup organic pine nuts toasted
salt and pepper to taste
4 tbsp grated raw parmesan cheese
2 tbsp of raw hemp seeds
Instructions
In a food processor, process kale into small chopped pieces (use the flat attachment)
Dressing, whisk apple cider vinegar, olive oil, maple syrup, salt and pepper together in a large bowl
Add chopped kale, goji berries, pine nuts and parmesan to bowl with dressing
Stir all ingredients together, sprinkle with hemp seeds and serve
Enjoy!!  If you liked this recipe, comment below and show a girl some love by sharing with your friends!!
Ciara xo