I'm a HUGE fan of chocolate and peanut butter!! It's just a fabulous flavour combo that I love to indulge in! This smoothie is PACKED with Nutrient dense goodness and it's yummy too!! In addition to being a hormonally balanced smoothie that includes lots of alkalizing greens, it also contains a couple very important super foods that provide a ton of nutrients and make you feel amazing!!
Raw Cacao Powder:
*Neutralize Free Radicals
*Improve Digestion
*Great source of magnesium
*Enhance mental well being
*Full of vitamins and minerals
Maca Powder:
*Reduces cortisol
*Increases energy and libido
*Helps balance hormones
*Reduces mood swings
Give it a try and let me know what you think!!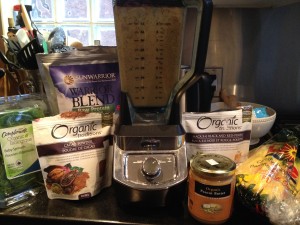 Green Chocolate Monkey Smoothie
1 scoop of SunWarrior "Warrior" Vanilla Vegan protein powder
1 tablespoon of Raw Cacao powder
1 teaspoon of Maca Powder
1/2 Banana
1 tablespoon of organic peanut butter
1/2 tablespoon of chia seeds
1 cup of Almond Milk
Pack that blender full of Organic Baby spinach!
Ice cubes as needed