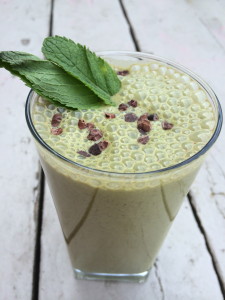 Am I serious? Better than chocolate chip ice cream? Oh YES! Here is the thing, we all love our childhood favourites. But when you know eating ice cream is going to coincide with an upset tummy, constipation, sinus congestion and possible feelings of "guilt", is it such a "treat"? Will it make you "feel" GOOD?
Only you can answer that question. But for me, its just NOT worth feeling crappy to eat something that in many cases is full of additives, preservatives and has little nutritional value!
That does not mean, however, that I have to go without the deliciousness of that creamy chocolate chip flavour. In fact, today I enjoyed it for breakfast!
Minty Chocolate Chip Smoothie
1.5 scoops of Sunwarrior raw vanilla rice protein powder
2 large handfuls of organic baby spinach (or leafy green of your choice)
1 tablespoon of raw organic almond butter
1 cup of organic unsweetened almond milk (I make my own-so easy)
Fresh mint-to taste (I used 2 full sprigs)
1 tablespoon of raw cacao nibs
1 teaspoon of organic vanilla extract
1 small banana
1 cup of ice cubes
Blend everything in your favourite high powered blender (I used my Vitamix) and ENJOY! This nutrient dense, balanced and tummy loving smoothie will satisfy your craving for ice cream while keeping your nutrition goals on track!
Give it a try and let me know what you think! Leave your questions and comments below!