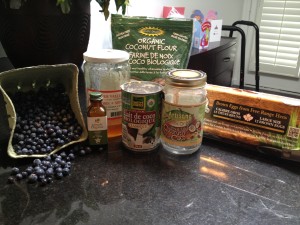 Healthy Blueberry Muffins (GF, DF, NF)
Truth be told, since giving up wheat 10 years ago, I really don't have an affinity toward baked goods at all. Saying that its back to school time and my 10-year-old LOVES muffins, but she too is on a wheat free/low gluten and dairy free diet.  She also has a ferocious appetite and needs lots of well-balanced snacks to keep her blood sugar stable and her attention span in check!  These coconut blueberry muffins are the answer!  With lots of fibre (coconut flour has 6grams of fibre in only 2 tablespoons!) fresh eggs and energizing coconut oil PLUS zero refined sugar, this whole food recipe is not only delicious but healthy and EASY too!
Just a note about coconut flour, it can be tricky to bake with.  It took me a few tries to get this recipe down!  Ensure you don't "pack" it when measuring and be very precise!
Ingredients
3/4 cup coconut flour
⅛ tsp baking soda
1 tsp of cinnamon
2 tbs raw coconut nectar (or raw honey)
½ cup coconut milk, full fat (the light makes them too moist)
2 tbs coconut oil
3 eggs
½ teaspoon vanilla extract
1/2 cup fresh wild blueberries
Instructions
mix all the dry ingredients in a bowl
in a different bowl, mix all the wet ingredients together
add the dry ingredients slowly to the wet ingredients and mix to form a batter
add in the blueberries
the batter will look a little "dry" and that's ok.  (see photo) These muffins are very moist, so don't worry!  Spoon the batter into paper-lined muffin cups and bake at 350°F for 25-30 minutes or until tops start to turn golden brown and muffins are firm.  Ensure they are completely cool before removing from the pan.
The recipe makes 6 blueberry muffins.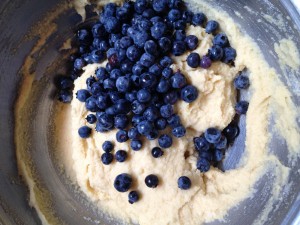 This is how the "batter" should look, it is not "pourable" in the slightest.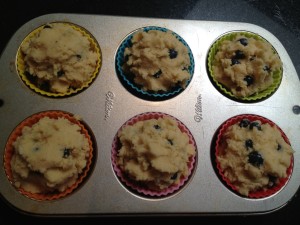 These are the muffins before they are baked.  You can see how firm they are already, this is a good thing!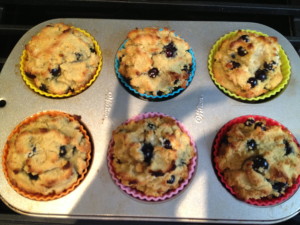 Finished product!!  Enjoy!  These didn't last long in my house,  I hope you enjoy them too!  Be sure to let me know how this recipe works for you.
Best in health, Ciara