My Transformation from Junk Food Binges to Kale Loving Weight Loss Expert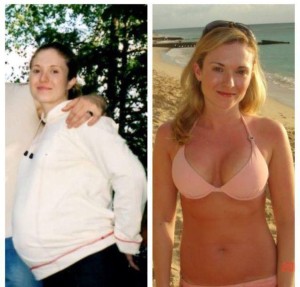 I don't want you to just know me as "Ciara the Nutritionist" !  I want you to know WHO I am and WHY you can TRUST me.
This is my Story.
I live with my two daughters ages 2 and 10 in Toronto, Canada.  In 2003, after having given birth to my first daughter, I found myself depressed, 50lbs over weight and inactive with a major sugar addiction.  I hated how exhausted I always felt and I could barely stand to look at myself in the mirror.
Prior to my pregnancy I was 115 pounds 5'3 and very active.  I went to the gym at 6:30am 5 days a week AND added a few spinning classes in the evening. But I did that for "vanity" purposes.  At that point in my life, I did NOT "get it".  I was not tuned into my body.  I certainly wasn't listening to it talking to me in the form of symptoms such as headaches, gas, bloating, constipation, brutal PMS and even cystic acne.  I was eating low fat, low calorie, sugar free and didn't think twice about how exercising made me "feel" let alone my "health". I only cared how I looked in the mirror.
My life was EXHAUSTING!